Trust The First-Rate Syracuse Roof Washing Pros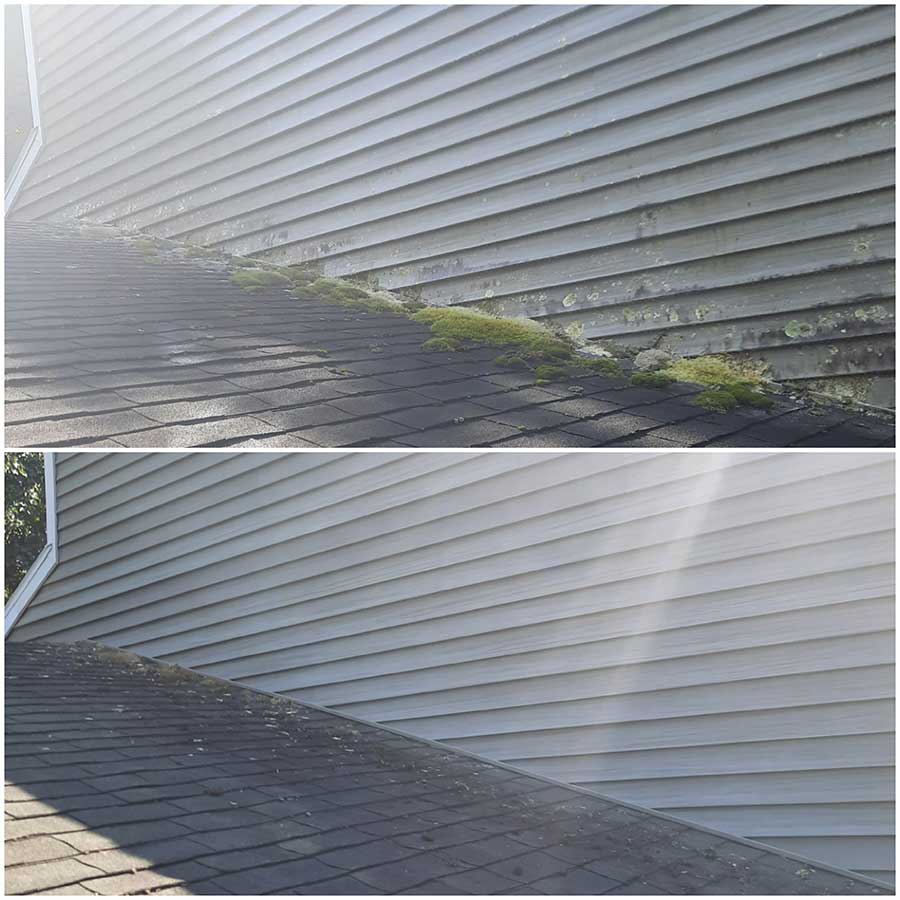 Get rid of that pesky green slime on your rooftop with a roof washing service from Syracuse's pressure washing specialists at CNY Exterior House Cleaning. When leaves, moss, and other debris accumulate on your roof, it can create a breeding ground for harmful organisms like lichen, algae, and mildew. These invasive substances can attach themselves to and penetrate your roof's surface and shingles, leading to intrusion into the substructure. Once they take hold, the climate is perfect for roof rot and damage. This could lead to expensive repairs or replacements, leaving you to pay the bill.
Avoid the stress and grief of damaged shingles and roof repairs by calling on CNY Exterior House Cleaning for professional roof washing services. With our years of experience and industry-level tools and techniques, you'll be glad you did!
Soft Wash Roof Washing For Your Home In Syracuse
At CNY Exterior House Cleaning, we utilize a special soft washing method for our roof washing services. We only use eco-friendly, biodegradable cleaning products to eliminate nuisances like organic material, mold, animal droppings, and other nasty buildups on your roof. These pollutants are saturated by our cleaners then gently washed away with a stream of clean water, giving your roof a spectacular shine. Our soft washing solutions are safe for all types of roofing materials and roof surfaces, including:
Slate and wood shingles
Asphalt shingles
Tile roofing
Metal roofing
Composite and TPO roofing
Keeping your roof clean with routine roof washing is a valuable kind of preventative maintenance that your home shouldn't go without. Roof washing prevents acidic and organic materials from damaging your roof's surface, extending the life of your roofing materials. Roof washing protects the integrity of your substructure by preventing the invasion of harmful organisms like mold and mildew. When you call CNY Exterior House Cleaning, our roof washing pros will review your project, inspect your surfaces, and create a maintenance plan to meet your specific needs.
You Can Rely On Our Pros
Finding a trustworthy pressure washing company to perform your exterior cleaning doesn't have to be complicated. CNY Exterior House Cleaning is the top choice for pressure washing for Syracuse, and we prove it with the hard work and beautiful results we provide with every job we do. We're proud to offer multiple kinds of pressure washing services, from driveway cleaning to house washing and many more! No matter what your exterior surface needs, we can provide you with a clean you'll love.
Latest Articles & Tips On Exterior Cleaning
Dispelling The Top 3 Myths About Dryer Vent Cleaning

Ask any homeowner who has had dryer vent cleaning, and they'll rave about the benefits. Unfortunately, it seems to be the misinformed property owners who haven't ever used this type of service who seem to have the loudest opinion about cleaning dryer vents. For that reason, […]

Top Uses For A Pressure Washer In Syracuse

People have certainly found some unique ways to utilize pressure washing from cutting fruit, pumpkin carving, or even scaling fish. While these ideas are fun, we at CNY Softwash & Pressure Washing want to focus on the practical uses for a pressure washer. Keep reading to […]