Reliable Professional Pressure Washing For Your Gutter Cleaning Service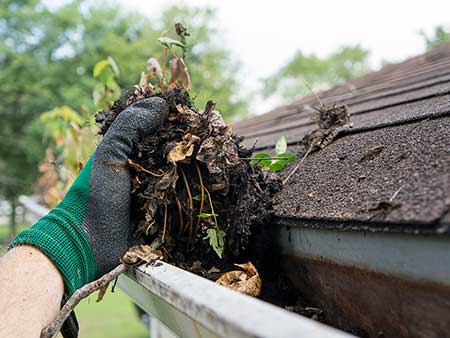 While autumn in Syracuse may be a beautiful time of year, it can wreak havoc on your gutters. CNY Exterior House Cleaning is the pressure washing company to trust to clean your exterior surfaces and features, including your gutter cleaning. And yes, even seamless gutters or those with guards need cleaning, just not as frequently.
Keeping your gutters clean means they look and perform better. We're ready to get you on a cleaning and maintenance schedule, so your gutters stay clean or take care of one-time service as you wish.
For optimal gutter cleaning, give our team of pros a call. We offer the safe but effective cleaning you need to keep things flowing and looking suitable for your rooftop and gutters. Call us now to get your free estimate.
Interior Gutter Cleaning
One of the most important tasks you can arrange for your home's exterior cleaning is gutter cleaning. It's up there with roof cleaning as a top priority, and without regular internal gutter cleaning, you'd end up plagued by problems such as:
Clogged gutters with blockages
Spillover that stains siding
Ice dams in the winter
Roof damage from mold and rot
Flooding at the foundation
While some homeowners think the old-fashioned approach of cleaning gutters on a ladder and scoping out the debris by hand should suffice, it's a messy, dangerous, and ineffective approach. Our equipment will wash out the gutters, reaching debris that would otherwise be stuck.
Plus, the spray is just strong enough to remove the buildup of contaminants that can ruin your gutters over time. Call CNY Exterior House Cleaning today for your power washing appointment.
Exterior Gutter Cleaning
Keeping the outside of your gutters clean is essential too. Dirty gutters ruin curb appeal, but it's also about avoiding mold, algae, and other buildups that can damage gutters.
Routine cleaning for the exterior of your gutters helps remove and prevent stains, but it can also be pivotal in avoiding rust and corrosion. You can schedule your service with us today for exterior cleaning, including your gutters.
Call now to discuss gutter cleaning and other pressure washing services in Syracuse. You'll be glad you chose CNY Exterior House Cleaning for the job.
Latest Articles & Tips On Exterior Cleaning
Dispelling The Top 3 Myths About Dryer Vent Cleaning

Ask any homeowner who has had dryer vent cleaning, and they'll rave about the benefits. Unfortunately, it seems to be the misinformed property owners who haven't ever used this type of service who seem to have the loudest opinion about cleaning dryer vents. For that reason, […]

Top Uses For A Pressure Washer In Syracuse

People have certainly found some unique ways to utilize pressure washing from cutting fruit, pumpkin carving, or even scaling fish. While these ideas are fun, we at CNY Softwash & Pressure Washing want to focus on the practical uses for a pressure washer. Keep reading to […]