Syracuse Call CNY Softwash & Pressure Washing For Christmas Lights Hanging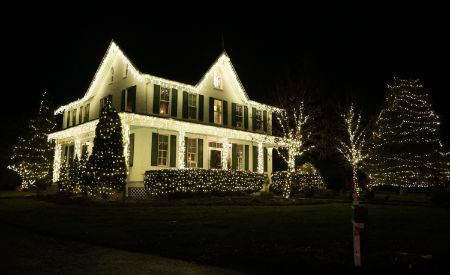 For Christmas lights hanging services in Syracuse that will prepare any home for the holidays, call CNY Softwash & Pressure Washing. Christmas is one of the most festive holidays on our calendar, bringing joy and holiday cheer to every home and family in the area. Perhaps everyone's favorite part of Christmas (aside from presents) is the decorations, particularly the lights! We've all gotten into the car and spent an evening hunting down the best Christmas light displays in town, and if you're ready to make your home the gem of your neighborhood, call on us. We might be the Syracuse area's top-rated pressure washing company providing gutter cleaning, roof washing, and more, but we're also the pros you can rely on for top-quality Christmas lights hanging services!
Save Time With Help From Our Team
Everyone wishes they had the extra time to take care of their own Christmas lights, but because the holidays are the busiest time of the year, it's tough to do it by yourself. Christmas lights hanging from CNY Softwash & Pressure Washing will give you back the hours it takes to put up Christmas lights so you can spend them doing everything else that the holidays require– eating delicious meals with your loved ones and sharing gifts!
Not only is hanging your own Christmas lights time-consuming, but it can also be dangerous. If you don't have the right safety precautions in place or enough experience performing safe Christmas lights hanging, you could end up in the hospital instead of admiring your handiwork at the end of the day! We can safely install your Christmas lights here in Syracuse to give your home a dazzling, festive look in just a few hours time that will have people driving past your house to take a look!
Our Process
When you hire CNY Softwash & Pressure Washing for your Christmas lights hanging services, you're getting the help of a professional team that knows how to give you exactly what you want in terms of your holiday display. Our process includes:
Consultation: We'll chat with you about your ideas and goals when it comes to your Christmas lights. If you aren't sure what you want, don't worry– we can make suggestions and offer guidance.
Installation: Our installations are customized to your home! We use only the best lighting and products to make your home glow with holiday cheer. We'll never damage your home or be careless during installation because your home is our top priority.
Maintenance: If something goes wrong with your lights during the holiday season, we'll be more than happy to come and fix them up. From lights flickering where they shouldn't be to loose strings and more, we've got your back. We want your Christmas lights to be as hassle-free as possible for you!
Removal: The holidays have passed; we'll schedule a time that's right for you to take down your lights and put them away until next year. Removal can be just as stressful as installation, and luckily, we take care of both.
Latest Articles & Tips On Exterior Cleaning
Dispelling The Top 3 Myths About Dryer Vent Cleaning

Ask any homeowner who has had dryer vent cleaning, and they'll rave about the benefits. Unfortunately, it seems to be the misinformed property owners who haven't ever used this type of service who seem to have the loudest opinion about cleaning dryer vents. For that reason, […]

Top Uses For A Pressure Washer In Syracuse

People have certainly found some unique ways to utilize pressure washing from cutting fruit, pumpkin carving, or even scaling fish. While these ideas are fun, we at CNY Softwash & Pressure Washing want to focus on the practical uses for a pressure washer. Keep reading to […]