House Wash in Constantia, NY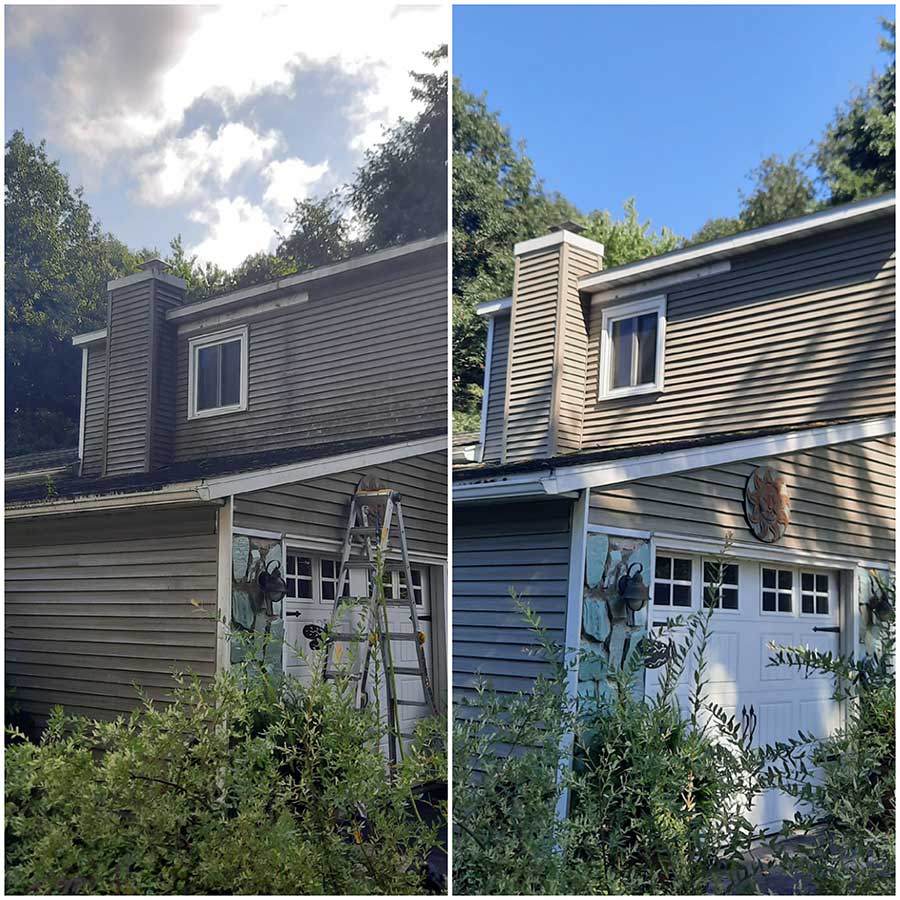 This customer called me for a house wash on two sides of the house. The North & West sides see the least amount of sun, allowing everything to stay wet longer, creating a breeding ground for organic growth. After attempting to take care of it herself, she decided she needed help. She wasn't able to reach high enough and didn't want to get the ladder out. With the added tree cover, there was heavy moss and lichen build-up. Not taking care of build-up in a reasonable amount of time will cause issues a cleaning cannot fix, such as oxidation, which needs restoration on top of cleaning. Using the NorthStar 5.5 GPM Soft Wash pump, I was able to bring down all the build-up with 60psi leaving the siding looking like new again! Some of the house wash solution killed some moss on the roof, which I was able to rinse down as well. She was thrilled with the results! The whole job took around five hours.
If you need house washing, or you are looking for any other pressure washing services, contact CNY Softwash & Pressure Washing today.
House Washing Project Gallery
Products Used:
NorthStar 5.5 GPM Soft Wash Pump
Latest Articles & Tips On Exterior Cleaning
Dispelling The Top 3 Myths About Dryer Vent Cleaning

Ask any homeowner who has had dryer vent cleaning, and they'll rave about the benefits. Unfortunately, it seems to be the misinformed property owners who haven't ever used this type of service who seem to have the loudest opinion about cleaning dryer vents. For that reason, […]

Top Uses For A Pressure Washer In Syracuse

People have certainly found some unique ways to utilize pressure washing from cutting fruit, pumpkin carving, or even scaling fish. While these ideas are fun, we at CNY Softwash & Pressure Washing want to focus on the practical uses for a pressure washer. Keep reading to […]